A bit about The Dental Handpiece Repair Guy
First, let me tell you a little bit about myself and The Dental Handpiece Repair Guy!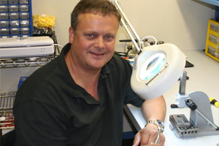 My name is Ken Groba and I have been involved in dentistry most of my life. My father is Dr. Ron Groba and my mother, Marie, is a dental consultant. My Dad graduated dental school in 1974 and I have worked with both my Mom and Dad for over 20 years.
My parents also invented practice management tools—"The Amazing Patient Tracking System" that I have used to help many dental practices nationwide improve their productivity.
My Experience
I was my Dad's first hygiene assistant and I would also accompany my mother on many of her consultations jobs helping other dentists streamline their hygiene department. In those 20 years I got to experience many aspects of what really goes on behind the scenes in a dental office.
I Know My Work!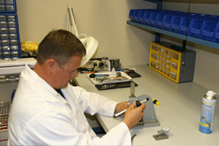 For the last 20 years I have repaired vacuum systems, water lines, air supply, and just about anything else in a dental office and of course oodles and oodles of handpieces.
I have a passion for dentistry and mainly for the problems associated with the profession. I felt that if I could broaden and fine tune my knowledge in handpiece repairs that I could further help other dentists. I committed myself to some very intense one on one training course on repairing most brands of both low-speed and high-speed handpieces as well as ultrasonic scalers.
You Can Count On Me
My goal is to provide high-quality, fair priced and fast services to dentists nationwide. We will strive to make it as quick and easy as we can for you to get the service that you deserve.
We also offer warranties that we will track for you on all repairs. We will give you a free estimate and let you decide whether you want it repaired or not.
We will make our best effort to have a speedy turn around within 24-48 hours in most cases. My commitment is to treat your hand piece as if it was my Dad's.
THE DENTAL HANDPIECE REPAIR GUY, LLC
820 S FRIENDSWOOD DR STE 101
FRIENDSWOOD, TEXAS 77546
Phone: 800-569-5245
Email: repair@thedentalhandpiecerepairguy.com
Fax: 281-482-1432
Address:
820 S. Friendswood Dr., Ste. 101
Friendswood, TX 77546
---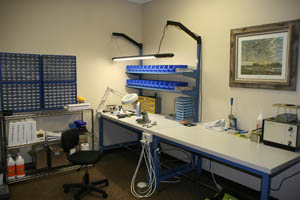 We provide the following warranties:
Highspeed Handpieces
These come with a four to six month warranty
Lowspeed Handpieces
Most Lowspeed Handpieces come with a warranty of six months to one year.
Ultrasonic Repair
Our repairs come with a six month warranty.
Handpiece Repair Services Provided
Free handpiece pickup and delivery, free handpiece repair estimates, in-house handpiece repair, ultronic handpiece repair, fiber optic handpiece repair, check water and chip air, disassembly if applicable, clean handpiece internally and externally, check parts for wear and replace if needed, preventative maintenance, spindle concentricity tests, replace parts and reassemble, bench test for noise, torque and rpm—check air pressure, return handpiece and review maintenance procedures.