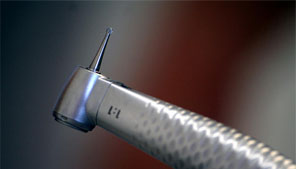 Good Maintenance Practice
Always read and follow the manufacturers instructions before use.
Specifications vary, however typically air pressure should not exceed 32 PSI for high-speed handpieces and 45 PSI for low-speed handpieces.
Do not tighten the chuck without a bur or bur blank in place to prevent collet damage. Collet damage may occur if chuck is tightened without a bur or bur blank in place.
Do not operate a handpiece without a bur or bur blank securely in place.
Do not depress the push button on a push button handpiece during operation. Doing so may generate excessive heat at the cap.
Do not use the push button handpiece to retract the patients cheek or other soft tissue to avoid inadvertently depressing the push button. (see item 5)
Use only bur changing tools designed for the handpiece.
Always store handpieces with a bur blank in place.
Always ship handpieces with a bur blank in place.
Always remove the bur from the handpiece when sterilizing.
Lunch and Learn's are
Coming Soon!
The Dental Handpiece Repair Guy is excited to announce that he will be starting to do lunch and learn's in the Houston area, soon.
What is the benefit of a lunch and learn? We'll come to your office with a free lunch and will educate your staff on how to properly maintain dental handpieces.
How can you beat that? Free lunch, and free education that will help your equipment last longer! Contact us today to reserve your seat. We'll be starting soon.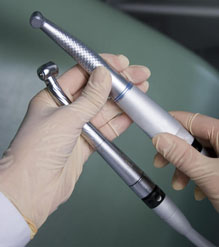 How Should I Maintain My Handpiece?
Are you confused about handpiece maintenance?
That's understandable. Recommendations vary and seem to change regularly. A good policy is to follow the manufacturer's recommendations.
Also remember —"
If it works - don't fix it!
" —That is if you have been both consistent and successful with your maintenance procedures, you probably don't need to change. However, if problems persist you may want to closely review your maintenance procedures.
Note
: If you are using maintenance free bearings in your handpieces the spindle still requires cleaning and lubrication once a week.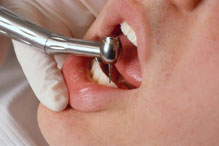 Between Patients - Handpiece Maintenance
Lubricate Handpiece
Place 2-3 drops of oil into the intake tube located at the bottom of the handpiece.
Install a bur or precision shipping pin into the chuck of the handpiece.
Operate the handpiece for approximately 10 seconds to purge the handpiece with oil and expel.
WARNING: Operating the handpiece without a bur in the chuck may cause premature failure of the chuck.
Clean Exterior of Handpiece
Wipe down the exterior of the handpiece with distilled water or alcohol.
Remove gross contaminates with a fine wire brush.
DO NOT use tap water or phosphate based detergents.
DO NOT immerse a handpiece in a cleaning solution.
Sterilize the Handpiece
Remove bur or precision shipping pin from the handpiece.
Individually bag each handpiece for sterilization and if using a pouch be sure paper side is up so as not to trap moisture.
Place handpiece in sterilizer and run cycle.
Be sure to use clean chemicals when using a chemical sterilizer
NEVER exceed 135c/275f in the sterilization cycle
NEVER operate a handpiece that is hot to the touch. Allow the handpiece to cool to room temperature before operating.
NEVER leave a handpiece in the sterilizer overnight.